Luxury Single-Family Homes are a Smart COVID Investment in Southern Florida – The pandemic forcing Americans to stay in their homes for several months has many citizens rethinking the type of luxury lifestyle they want to live. Apartment living in high rises right in the center of major cities was highly desired before the pandemic, but now that lifestyle is beginning to lose its appeal due to the higher level of restrictions luxury apartment and condo dwellers had to navigate.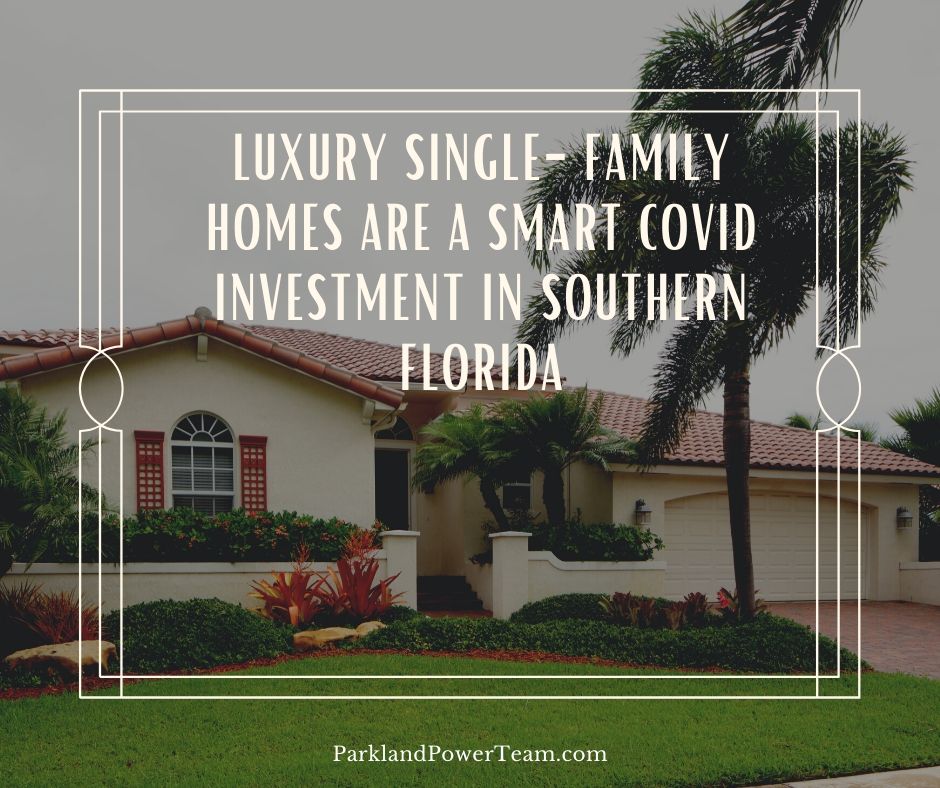 A large number of people are considering moves to less populated areas. It is not just luxury buyers. A recent poll found that around one-third of all buyers are looking to leave densely populated areas and head to the suburbs. In New York, many residents have already made the move.  
The desire is high for more space and privacy and being able to control who comes within close quarters of you while you are at home. All things that are hard to have to live in a multi-family complex with shared spaces. This makes purchasing a single-family home a very strong investment, much stronger than it was just six months ago.  
Some of the appeals of a single-family home right now include the flexibility to live in your own way and not be subject to rules of the governing board. Outdoor spaces can be enjoyed at any time with no regulations for distancing. If you plan to sell or rent the home in the future you get to make that decision on your own without consulting anyone.  
Single-family homes minutes away from popular major cities are especially appealing right now and offer great opportunities for a strong return on investment.  
The number of single-family homes that are being rented right now has grown immensely, especially luxury homes. Right here in southern Florida realtors are fielding calls daily from renters that would like to get away from the big cities, namely New York, and are looking for a home to rent. This is a very good time to become a rental property investor.  
It is predicted that the number of people fleeing big cities will continue to head to southern Florida seeking more space, lower taxes, and waterfront living. Independent homes with pools are expected to be very highly desired in the coming months. Single-family homes with pools and waterfront in south Florida towns are commanding top dollar rent prices right now. The Palm Beach County area is especially attractive right now as young families seek homes with private beach access and more space for children to get physical activity.  
Related: 3 Things to Consider When Buying a Beach Home
If you are looking for a single-family luxury home in Boca Raton, Coral Springs, or Parkland just outside of Miami I would love to help. I am an experienced local realtor with extensive knowledge in Boca Raton real estate. Please contact me anytime to find a great home with plenty of space.