Parkland Florida Real Estate and  Statistics and data April 2014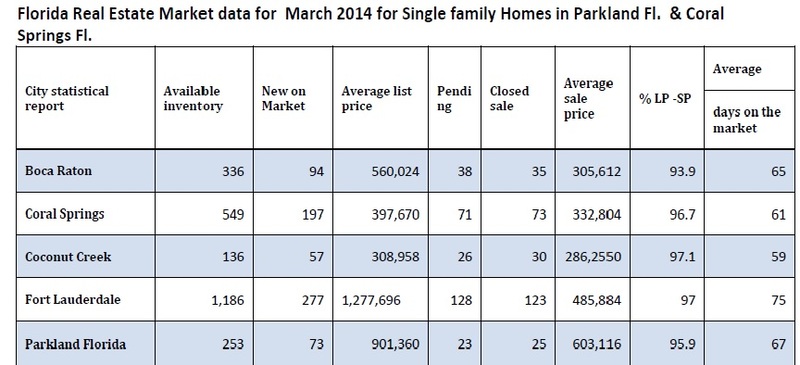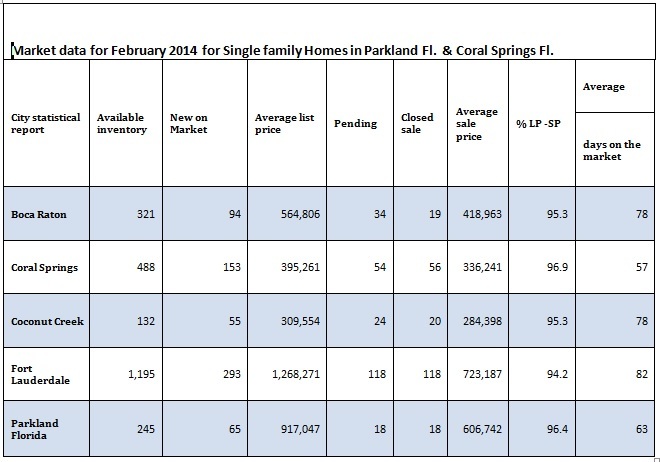 For the last 8 month on a monthly basis we have been compiling what
we believe is added value from your realtor. Monthly statistic on the
local real estate market.

Some of you have told us you really liked it and appreciated the
effort. please let us know how you feel about this now. if you wish to
review the last 8 months see our web sites. www.parklandhome.com

All single family homes in  Parkland Florida, Coral Springs Florida,
Coconut Creek Florida, Boca Raton Florida, Fort Lauderdale Florida area
real estate research, analysis, and statistical data displayed below are
derived from the Multiple e Listing Service (MLS) the Local Association
of Realtors®. All of the information is deemed reliable but is not
guaranteed and should be independently verified.

Statistical accuracy is entirely dependent on the Miami & Fort
Lauderdale Florida MLS. They do reflective true market conditions, and
they represent the best data available at the time of calculation and
posting*.

Market data for the past many month for Single family Homes in
Parkland Fl  & Coral Springs Florida, Boca Raton,  Coconut Creek and
Fort Lauderdale.

If your thinking of moving to South Florida watch this video of Parkland Florida

Number of homes seriously underwater at two-year low

IRVINE, Calif. – April 17, 2014 – RealtyTrac released its U.S. Home
Equity & Underwater Report for the first quarter of 2014, and it
finds that 9.1 million U.S. residential properties were "seriously
underwater," where the combined loan amount secured by the property is
at least 25 percent higher than the property's estimated market
value.The number represents 17 percent of all properties with a mortgage
in the first quarter. However, the number of underwater homeowners is
at its lowest level since RealtyTrac began reporting negative equity in
the first quarter of 2012. In the previous quarter, 9.3 million
residential properties (19 percent of those with a mortgage) were
seriously underwater. One year earlier, 10.9 million residential
properties (26 percent) were seriously underwater. The universe of
equity-rich properties – those with at least 50 percent equity – grew to
9.9 million (19 percent of all properties with a mortgage) in the first
quarter, up from 9.1 million (18 percent) in fourth quarter 2013.

Another 8.5 million properties (16 percent of all properties with a
mortgage) were on the verge of resurfacing in the first quarter, with
between 10 percent negative equity and 10 percent positive equity. It
was 17 percent one quarter earlier.

Fewer properties in the foreclosure process also had negative equity.
Nationwide, 45 percent were seriously underwater, down from 48 percent
quarter-to-quarter and 58 percent year-to-year. Conversely, the share of
foreclosures with positive equity increased to 35 percent in the first
quarter, up from 31 percent in the fourth quarter and up from 24 percent
in the third quarter of 2013."The relatively high percentage of
foreclosures with equity is surprising to many because it would seem
homeowners with equity could easily avoid foreclosure by leveraging that
equity by refinancing or with an equity sale of the home," says Daren
Blomquist, vice president at RealtyTrac. "But many distressed homeowners
with equity may not realize they have equity and in some cases have
vacated the property already, assuming that foreclosure is
inevitable."Florida continues to rank high in the percentage of
seriously underwater homeowners with a mortgage – 31 percent. It ranks
second nationwide to first-place Nevada (34 percent), and it's followed
by Illinois (30 percent), Michigan (29 percent) and Ohio (27 percent).

Two Florida cities also make the top-six list for underwater
homeowners with a mortgage. Las Vegas tops the list (37 percent)
followed by Lakeland, Fla., (36 percent), Palm Bay-Melbourne-Titusville,
Fla., (35 percent), Cleveland (35 percent), Akron, Ohio (34 percent),
and Detroit (33 percent).

Of Florida homeowners in the foreclosure process, 26 percent have
equity, while 59 percent are seriously underwater. The remaining 15
percent are close to the break-even point.

© 2014 Florida Realtors®

click

for your FREE  Buyers guid for  parkland Coral Springs Dlorida

of how to avoid 5 costly mistakes buyer make in to-days market!

updated 2013

click

for your

  FREE Sellers guide in parkland Florida & Cpra;l Springs Fl: how to avoid 7 costly mistakes sellers make 

updated 2013

Follow our blogg 

E-bloger

on current local issuesThinking of Buying New or New Construction in Parkland Florida or

Boynton Beach or Boca raton. Florida have a realtor work with you the

deveoplers loves us ! call us !

954 802 8451

to help you or emal:

leaplotkin@gmail.com

Email us your needs and wants and we will be glad to create a website

just for you with your criteria and the MLS will alert you any time a

brand new listing comes on the market or there is a price reduction in

your criteria. or search the MLS yourself.| |

www.heronbayrealestate.com

 | | 

www.FloridaWaterfronts.com 

| | 

www.e-buyhomes.com

||

www.luxuryfloridaliving.com

| |

 www.parklandhome.com

| | www.parklandcountryclubhomes.comOur Knowledge empowers you !
Ed Poirier & Rubin Wites
Parkland/Coral Springs Florida , Greater Fort Lauderdale & South Palm Beach

leaplotkin@gmail.com

 

954-295-8015

www.parklandhome.com

Berkshire Hathaway HomeServices Florida Realty | 2780 University Dr., 3rd Floor
Coral Springs, FL 33065
©
2014 BHH Affiliates, LLC. Real Estate Brokerage Services are offered
through the network member franchisees of BHH Affiliates, LLC. Most
franchisees are independently owned and operated. Berkshire Hathaway
HomeServices and the Berkshire Hathaway HomeServices symbol are
registered service marks of HomeServices of America, Inc.® Equal Housing
Opportunity. Information not verified or guaranteed. If your property
is currently listed with a Broker, this is not intended as a
solicitation.