"Where Your Taxes Go"
 Did you know for each dollar($1.00)you pay in  property taxes the City of Parkland only receives twenty‐cents($0.20).
 Your property taxes(advalorem taxes) are distributed amongst seven(7) taxing authorities in Broward County.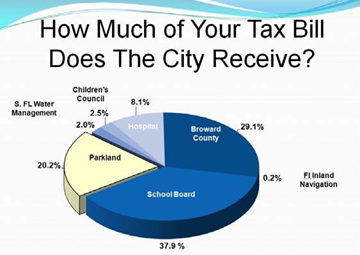 The City o f Parkland has the lowest millage rate when compared to our neighboring Cities. Parkland has the 4th lowest millage rate in all of Broward County.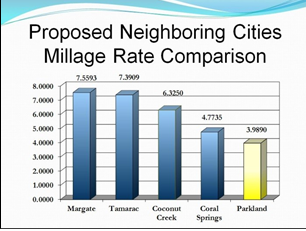 What is a millage rate?
The millage rate is the amount of property tax charged per$1,000 of taxable  value. For example, the City's proposed millage rate is $3.989 per $1,000 of  taxable value.For each taxable value of $100,000, a property owner would  pay$398.90.
 If a home has a market value of $500,000,the  property
 owner would pay the following taxes: