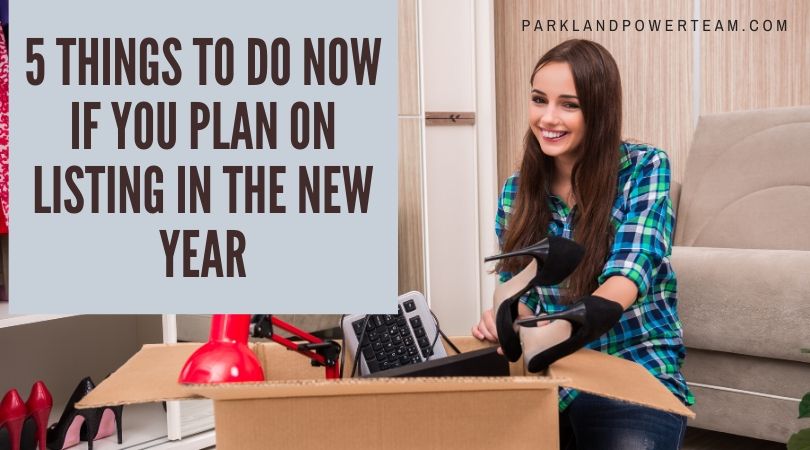 Didn't it seem like it was just summer five minutes ago? Well, if you're like me and you're realizing that this year completely has flown by, you probably being forced to look into what's going on next year and it may be the year that you buy or sell a new home. If you're planning on listing your property the first of the year or in January or February, there are some things you can be doing now to prepare your home for the future.
Nobody likes to sell a home during the holidays but many people have to sell, whether it's work-related, family or job-related, or you need a larger home for even more family. Whatever the reason, whether you're selling in December and want to close before the end of the year for tax breaks or planning on selling the first of the year or listing, here are five things you can do now if you plan on listing your home in the new year.
Get your free cost market analysis on your home today
#1. Be intentional with your holiday decorations.
If you're not planning on selling until after the holidays, you can go through all of your holiday decorations now while you are putting them up and donate items you don't use anymore, throw away broken light switches, and basically clear out anything you don't want to move to the new house. Most people don't have an opportunity to do this as they sell in the spring, summer, or fall. Selling in the new year means you can prep now and get rid of those seasonal items you know you don't want to take to the next house.
#2. Start interviewing real estate agents.
I can't tell you how many times I've heard that a client wants to use a real estate agent that doesn't live in their neighborhood or town, just got the real estate license, and has no clue of the market just to be nice. It doesn't matter that your cousin's best friend's husband just got into the business and you're trying to do him a favor. This is hundreds of thousands of dollars and it's all your money. You wouldn't trust an amateur stockbroker with a half $1 million, would you? You have to go with someone that understands the market, is well aware of your area and neighborhood, and knows how to price the home correctly from the beginning to get it sold on your time frame.
#3. When you clean up, clean up and pack.
When it comes to staging your home, less is always more. When you're packing up your Christmas items after the holidays, pack up about half of the seasonal items in closets, cupboards, pantries, and drawers. You will need to pack these items up anyway so now is a great time to start packing, carefully label things, and do it at your pace rather than a week before your home closes.
#4. Check out the competition.
Homes that are on the market right before Christmas can skew the overall comparable sales for an area. Homes are usually drastically reduced so that the homeowners can sell before the end of the year and you may not get an accurate idea of what the market is doing, however, just knowing your competition, what's out there, and coming soon properties (which your agent may be able to supply for you) are good way to get an idea of what's out there and what buyers are going to be looking for.
#5. Make HGTV your best friend.
Whether you are looking up staging ideas on Pinterest, googling the best staging tips, or DVR-ing every Fixer Upper and Home Staging show out there, start making notes now of what buyers like, what they're looking at in homes that they tour, and how you can transform your home to be the best it can be while it's on the market.
Get your free cost market analysis on your home today
I would love to help you stage, market, and sell your Parkland or Heron Bay home in the new year quickly and for as much profit as the market can bear. Call me at 954-295-8015
More Great Stuff for This Time of Year: