The impact of the COVID-19 pandemic has had effects on all of us in varying ways. Some of these effects will cause a shift in the way we buy, sell, and make decisions on homeownership for at least the near future and maybe many years to come. While there is no way to know for sure the exact changes some real estate experts predict the following changes will take place in real estate.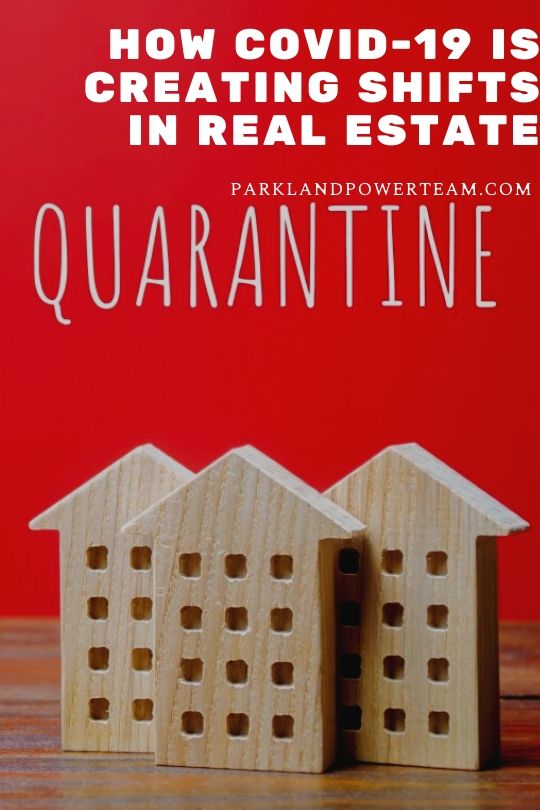 Upsizing
Before COVID-19 started changing things up, there was a growing number of empty nesters looking to purchase larger homes because they had downsized just a bit more than they like. Joining empty-nesters in their search for more space may be families with kids at home (including adult college kids back home from closed dorms) and new work from home jobs. Many homeowners may start searching for more space who previously made do with bungalows and condos that they could return to after a full day out and about.  
Related: How to Feel Safe Buying and Selling during COVID-19
Multi-Generational Living
Having more than just immediate family in your home was already on the rise as more families adjusted to taking care of adult parents, adult children living at home longer, and large families choosing to live more economically within their means. This way of living may become the new normal for many more families as the impact of COVID-19 has changed retirement plans, living out of home for college, and plans of caring for elderly parents. Many families may be looking for homes to suit multi-generational living. Read More About Active Adult Communities
Going Back to Hometowns
One of the first things we saw on social media was sort of a mass exodus of young professionals from the cities that they worked as work shifted to online and in the home. These young people returned to their childhood homes to wait out the virus with family. As stay at home orders become longer predictions are that these young people may decide to stay where they are at and move home, or closer to home, for good when things get back to a new normal.  
More: How to Buy and Sell During the COVID-19
New Floor Plan Demands
Things that have already shifted are predicted to stay that way at least for some. We will probably see more jobs stay online permanently and more families switch to homeschooling. In addition to these changes, we will all also be more aware of how things from the outside world enter our home. These new ways of living life will bring changes in what buyers are looking for in a Parkland FL home and what developers will offer. Expect to see new home floor plans that include:  
More than one home office space

 

Mudrooms at the main entrance or off of attached garages with plenty of built-in storage

 

More porch and balcony space

 

A larger number of bathrooms

 

More single-family homes as compared to townhomes and condos

 
These are just a few of the new changes we could be seeing in the real estate world as a result of the recent pandemic. Look out for part two for more ways COVID-19 is expected to change the real estate market and what buyers are looking for in homes.  
For more information on buying or selling a home in Boca Raton, 55+ communities of Boca Raton, or living in Boca Raton please contact me at any time.  
More: ZERO CONTACT Mortgages AKA Digital Mortgages in Coral Springs Florida