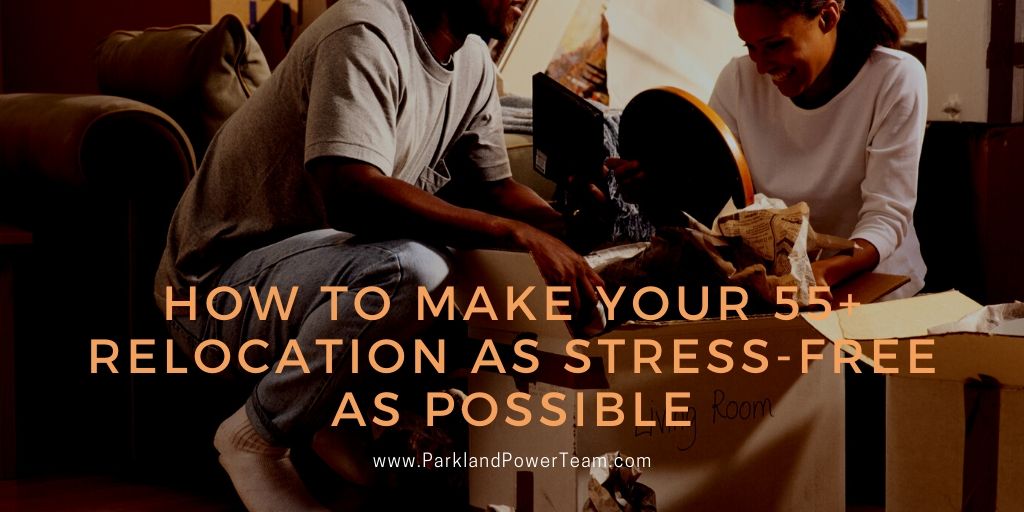 There are many reasons why we choose to pick up and move in the prime of our golden years; from wanting to downsize to being closer to assistance and care, to just being in a dream destination now that we are no longer tied down to a career. The entire moving process can be stressful for anyone at any time of their life no matter the circumstances, but moving to a location far from your current home when heavy physical activity is not as easy as it once was can be even more challenging.  
We have put together some tips and tricks you can use to help the relocation and moving process go as smoothly and stress–free as possible.  How to Make Your 55+ Relocation as Stress-Free as Possible
Make moving exponentially easier by hiring professionals to do all the heavy and strenuous work for you. There are moving companies and companies that can help you to find moving companies that specialize in the relocation of those 55 and older.  
One such company is the National Association of Senior Move Managers. Senior Move Managers help out and assist with every aspect of your big move. They can assist with organizing, sorting, or even downsizing. Move managers even offer to create a customized floor plan of your new home to plan how the things you are taking with you will fit into your new home. They help with nearly everything from the packing to the unpacking and settling in.  
Be Patient with Yourself
Moving is a long and not just physical, but emotional process. Even if you are just moving to take on a brand new and exciting adventure, there will be things you will miss about your old home, be things you are tired from and just want them to be done, and things you may forget you need to get done (because there are just so many things). Don't put too much pressure on yourself or even those that you love who are helping you out. Relax, things will get done. Things are always done better when we are calm and not putting too much expectation on things.  
Look Into the Best Travel Options

 
Since you are relocating, this will require some travel to get from the old home to the new one. Think about what would be the most comfortable way to get from one place to another. Would you rather make the trip in a car or fly on a plane?  
Close Accounts Here and Open New Ones There

 
Don't forget to take care of communicating with doctors, cable services, utility companies, and even the post office that you are moving to. Likewise, you will want to set up new accounts when you know your new address so they are up and ready to go when you get to your new home. If you need help finding great services in your new hometown ask your current providers if they have any recommendations. Your buyer's agent is also a great source of knowledge.  
More: How to Choose the Right 55+ Community for your needs
Glean Advice from the Experts

 
Your real estate agent in your new home town is a wealth of knowledge about living in your new town. They can help you to get acclimated and comfortable as well as give you expert advice on ways to make your move and transition seem almost seamless. Don't be afraid to ask them any questions you may have about how things work or even the best place to eat breakfast. An expert local real estate agent is happy to help you get acclimated to your new home.  
We would love to help you settle into your new Parkland or Heron Bay home. For more information on moving to the area contact me today!