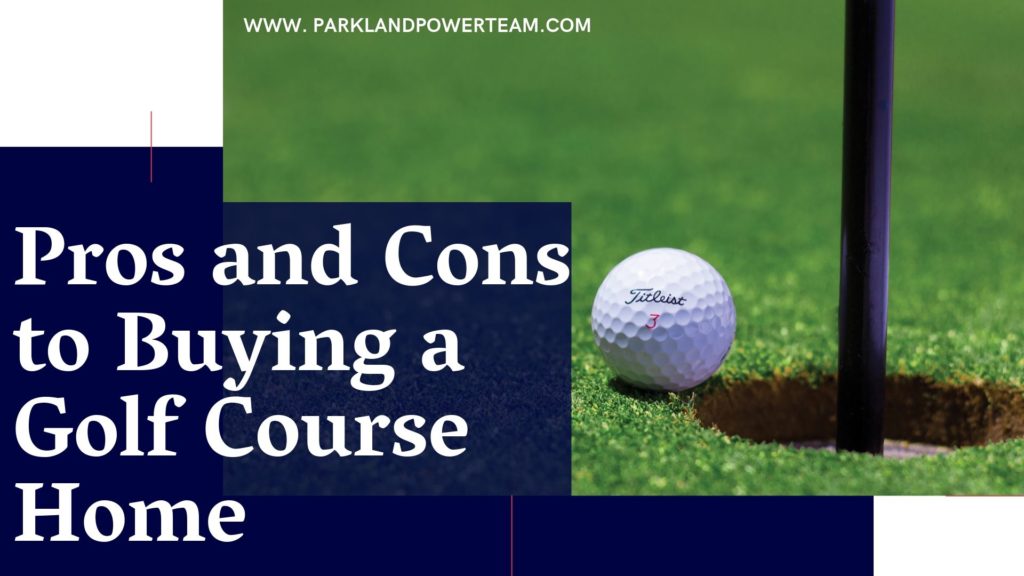 There are many amazing advantages to living on a golf course, especially if you are an avid golfer or even just an avid golf spectator. When people picture living on a golf course they picture living in their dream home and loving their neighborhood. Of course, there are a few things to consider before moving to a golf course home, as no home is completely perfect. It is a good idea to weigh both the pros and cons of the golf community living before buying a golf course home. Here is a list of just a few major pros and cons of living on a golf course to help you consider buying a golf course home.  
Pro: No more looking out the back door with a morning cup of coffee in hand to enjoy the view and have it interrupted by the unkept landscape in your neighbor's back yard or a mess of objects and clutter. You can look out and enjoy meticulously landscaped greens all around.  
Con: If you live right on the golf course you have little to no backyard and everything you do back there is visible to people on the course and your other neighbors.  
Pro: Golf courses are known to be quiet and very relaxing, living on or near the course can be very peaceful. Additionally, very few courses are open after dark, so you will be able to enjoy nice quiet evenings on your back patio.  
Con: The location in which your home is on the course can make a big difference. If you are right next to a tee box, you may be hearing golfers yell "FORE!" at various times during open hours (sometimes even bright and early in the morning). If you are near a cart path you will have the noise and traffic of carts. If you are close or right along any green there is always the chance of a golf ball hitting a window or even you when you are outside.  
Pro: Golf courses are beautiful and nice to look at, you will always have an amazing view if you have a view of the course. You can also enjoy watching a game of golf our two from your very own home. If you enjoy watching golf, living on a course that hosts tournaments is a great benefit.  
Con: Golf courses are beautiful because a lot of work goes into the groundskeeping. This can be a slight issue if you are not a morning person as you will hear lawn mowers at work before early tee times.  
Golf courses that host major tournaments do allow for a large number of spectators to come and watch. This could create more noise, an obstructed view, and even difficulty getting around the neighborhood at the time of a tournament.  
Pro: There are almost no golf communities without a governing homeowner's association. Each HOA will have its own set of rules and expectations, but each one is set up to keep the community looking beautiful so that no one has to worry about an unsightly property in the community.  
Con: While the HOA will keep the neighborhood beautiful, there could be some rules in place that keep you from making improvements to your property or cause a heated disagreement among neighbors over what is acceptable. Make sure to carefully look over HOA rules before purchasing a golf course home to see if you feel the rules are agreeable and not too strict for your preferences.  
Pro: All golf neighborhoods vary, but each of them comes with some perks and amenities. The first one is being within steps of a golf course. Some communities will have a clubhouse, other sports like tennis, a pool, clubhouse restaurant/bar, store, workout room, or even a spa. Some neighborhoods with clubhouses host community events and clubs.  
Con: With more amenities comes an additional cost. Purchasing a home in a community with a large number of amenities may require you to purchase into a country club membership and there may be penalties for late payment of dues. Something to consider when you are budgeting the purchase price of a new home.  
There many great reasons to purchase a golf course home, but some things to consider as well. Parkland has some of the best golf course communities. To find the perfect golf course home in Parkland contact the Parkland Power team.  
1-954-295-8015
Related:
The Cost of Renting Vs. Buying