Parkland Florida Real Estate
The City of Parkland, Florida, truly lives up to its name. Parkland, FL is a Boutique community of over 25,000 homes & town homes nestled among larger nearby metro areas (Ft. Lauderdale is just half an hour to the south). The city of Parkland has carefully preserved its natural areas and restricted commercial development, maintaining a park-like atmosphere. Today the city of Parkland, Florida and its real estate is flourishing again with new construction Projects with Toll Brothers and Parkland Golf and Country Club, WCI communities and Heron Bay, Sawgrass Bay, and Osprey to Lennar building of Mira Lago Parkland and now on the scene Southern Pacific with Watercress. Parkland Florida real estate is flourishing now with homes from the low $400,000's to over $1 million on amazing water lots and amenity driven neighborhoods. All these builders cooperate with Brokers. Parkland Florida Real Estate is where buyers are looking for a safe environment for their children, great parks and good schools. You as a buyer should look to get the guidance you deserve when buying a new construction home or town home or a resale home in Parkland Florida. Call us Ed Poirier  & Rubin Wites 954 802 8451 prior to visiting any of these home sites.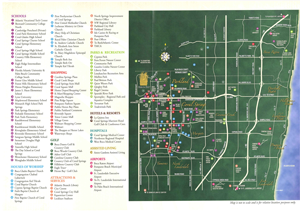 Download the Parkland/Coral Springs/South Florida Map
Ed Poirier is on the Toll Brothers Advisory Council and can get YOU additional discounts of at least $3,000 on top of any other incentives offered. Don't go it alone.
We can offer unlimited advice on the community and save new buyers thousands of dollars! Call Lea or Rubin of Berkshire Hathaway HomeServices Florida Realty at 954-954-8028451 for details! 
In the last few years Parkland Florida has developed many communities that offer rich lifestyle and unsurpassed parks and schools, such as Parkland Estates, Parkland Golf & Country Club, Parkland Ranches,  BBB Ranches, Club Estates at Parkland, Pinetree Estates, Cypress Head, Parkland Lakes, Tall Pines, Parkland Magic, Gables Estates, Alhambra, Parkland Golf & CC, Bella Flor, Alhambra Collection, Country Acres, Ternbridge, Fox Ridge, Grand Cypress Estates, The Landings, The Landings Estates, Meadow Run, Parkland Isles, Country Point, Waters Edge at Parkland, Whittier Oaks, Parkland Place, Bay Cove, The Lakes at Parkland, Cypress Cay, The Mews of Cypress head, Parkside Estates, Mayfair at Parkland, Mill Run, Grand Cypress, Terramar, In The Pines, Riverside Acres, The Pines, Sable Pass, Tall Pines Heron Bay are all located in Parkland FLA and are great communities within Broward County.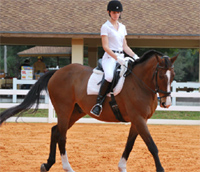 Parkland Florida has an amazing Parks and Recreation Department and they maintains six parks covering more than 96 acres. The department offers a variety of recreational opportunities, including a summer camp program, equestrian center, trails, lakes, and a number of athletic fields. The extremely moderate climate in the city of Parkland lends itself well to outdoor activities, including boating, water sports, and golf.
Parkland, Florida students attend Broward County Public Schools, the nation's sixth-largest fully-accredited school district, serving more than 274,000 K-12 students. The schools serving the Parkland community all rank near the top in statewide assessments. Private schools are also available nearby in Coral Springs, Ft. Lauderdale and Boca Raton. Eight colleges are located within 20 miles of Parkland, including Florida Atlantic University in Boca Raton and Nova SouthEastern University in Ft. Lauderdale.
One of the largest developments in Parkland Florida is Heron Bay offering graceful country club living at its finest,without the country club costs! Spanning the highly desirable cities of Coral Springs and Parkland, the community's environmentally conscientious plan balances nature with sophisticated neighborhoods that have earned numerous awards and the distinction of being one of the first golf communities in Florida to be a registered member of Audubon International Cooperative Sanctuary Program. The championship 18-hole golf course is interlaced throughout the community and offers many homes spectacular views.
Among the many outdoor amenities, residents can relax at either The Commons' spacious pool or the Plaza Del Lago resort-style pool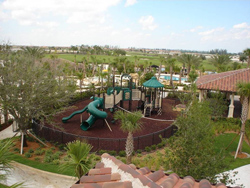 The newest addition at Heron Bay is the exclusive, residents only clubhouse, Plaza Del Lago. Located near the north gate, this clubhouse boasts approximately 30,000 sq. ft. Designed with families in mind the clubhouse includes amenities such as basketball courts, resort-style swimming pool, banquet room, state-of-the-art fitness studio, children's play area and more.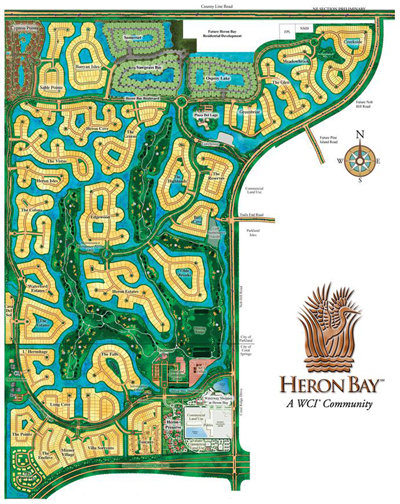 Call Ed Poirier or Rubin Wites to see Heron Bay or new construction in Parkland.
954-295-8015
Heron Bay is located in NW Broward County, between Coral Springs on the South and Boca Raton on the north. Great Schools, located near shopping, movies, malls, Sawgrass Expressway, I-95 and the Turnpike, yet in a very private secluded area-the best of all worlds.
The Commons Clubhouse
For relaxing by the pool or playing tennis and working out, the Commons Clubhouse is the place to be. The tennis enthusiast enjoys 10 Har-Tru® and two hard-surface courts and a workout in the fitness center. Residents may also take advantage of the swimming pool and jacuzzi, complete with tiki bar and island-style water feature, creating the perfect oasis for a relaxing afternoon.
Plaza Del Lago
For fitness and fun, Plaza Del Lago is the hot spot of Heron Bay. It boasts an expansive fitness center, spa, basketball courts, resort-style swimming pool with kids' spray park and grill area as well as a banquet room with seating for up to 250 guests for a private event to remember with easy access to the expansive pool deck for an indoor/outdoor event.
Homeowners of Heron Bay Florida web site and information:
http://www.heron-bay.net  there is a load of information in this site 
 
Parkland Golf & Country Club
Parkland Golf Parkland Golf & Country Club:features a unique 18 hole championship golf course, designed by golf icon Greg Norman, and features a special 19th Champion's hole. Set on approximately 791 gated acres, Luxury echoes throughout the community and is exquisitely distinguished in the landscape and residences.
Inspired by the earthy panache of Coral Gables, the community's character and architectural style may best be described as Tuscan with a naturally elegant sophistication. Stone, wood, water and other organic materials are the primary elements that comprise the context of the landscape and residences. Eight hundred and twenty luxury residences and estates are proposed. with almost 400 completed to date. Prices range from the $500,000 range to over $3,000,000 for the luxury estates. What truly distinguishes Parkland Golf & Country Club is the comprehensive amenities program the community plans to offer with both a Sports & Social Club and Golf Club complimenting the Norman-designed course.
At approximately 40,000 square-feet the Sports & Social Club plans to feature gourmet dining areas offering world-class cuisine, a bar and grill, fully equipped fitness center with spa treatment suites, resort-style pool and children's wading areas, 12-court tennis complex, event lawn with reflection pool and fountains, and children's playground. Current plans are to have no additional fee for the social membership. Complimenting the Sports & Social Club will be the Golf Club overlooking the 18-hole championship golf course. Golf Membership is currently being offered at many levels of memberships.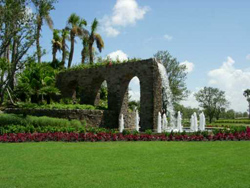 Located in the City of Parkland – an exclusive suburb of northwest Broward County, and known as the "relaxed" city, the  City In The Country, Parkland Golf & Country Club residents will enjoy relaxed seclusion while being conveniently within easy access to excellent educational facilities, fine area restaurants, shopping and cultural venues. And is just an easy drive to the beaches of the Atlantic, major attractions and sporting venues.
To request information on Parkland Golf & Country email  me  leaplotkin@gmail.com or call us 954-295-8015
New Construction by Toll Brothers at
Parkland Golf & Country Club Parkland Florida 
This prestigious community the builder Toll Brothers, offers these plans as a standard and then there are optional rooms such as game rooms and possibly whole floors baths which could include additional bedrooms and game rooms and porches.  At this time there is a custom building option through the builder for the upcoming showcase collection, prices are expected to be From $1.5 million
Please call Us for help. 954 802-8451 Our clients as always enjoy our personal expertise to help them choose the right home for them.
There many incentives and build able option such as additional game rooms and extra bedrooms and bathrooms including 1 car garage.Ambassador Collection:50 wide lots with varied depth no home behinds you as all of Parkland Golf features.*see our Country Club link for locations.  call for today's updates: lea 954 802 8451 prices range form high $500.00-$600.00 with square footage form 2,800-3,500 under A/C 2 car garage  the lots overlooking golf and water views. there many incentives please call me for  today's details.
Should you wish full brochures please email to me at leaplotkin@gmail.com  I will pdf them to you please put the full contact information in the email.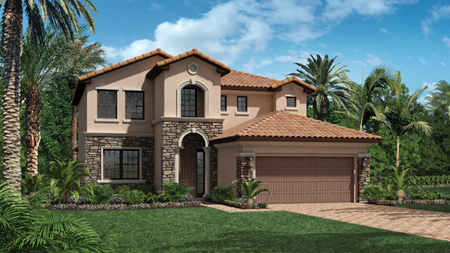 Stone Hill Model in the Monogram
Monogram Collection include: 60 x150 minimum no home behind you golf and water and some 3 car garage tandem style; all homes have the ability to customize : from $550,000-$800,000 and 2800-4,000.*see our Country Club link for locations.  call for today's updates: lea 954 802 8451.
Should you wish full brochures please email to me at leaplotkin@gmail.com  I will pdf them to you please put the full contact information in the email.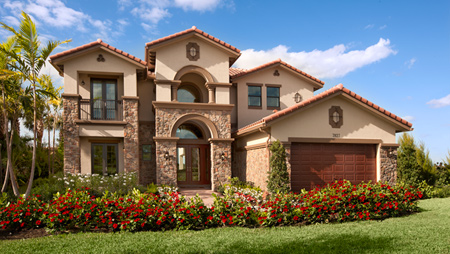 Treanna Model 6 Bedroom 5 bath with almost 5,000 sq feet under air. for that larger family to enjoy on the larger estate lots
Heritage Collection 90 x180 minimum lot size No home behind you golf and water All with 3 car garage. From 800,000-1,200000 for 3500-4800 sq ft. All home sin this collection are built to suit and customization to your taste.
Should you wish full brochures please email to me at leaplotkin@gmail.com  we will pdf them to you please put the full floor plans and site maps
The Golf Club at Parkland Golf and Country Club: 
A Greg Norman Course Pro-Shop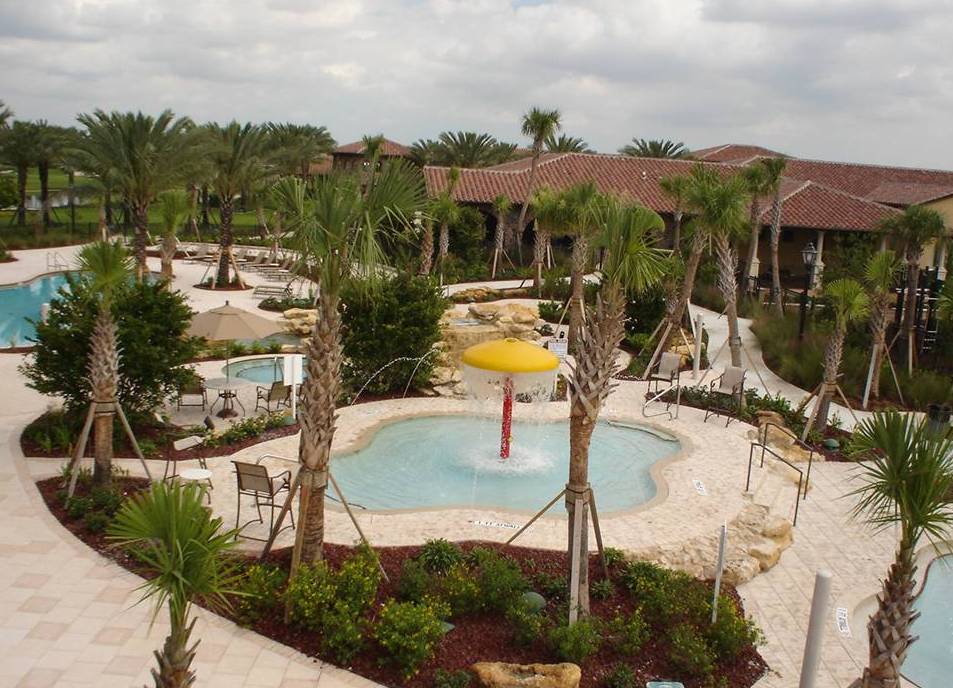 Parkland Golf  & Country Club is dedicated to preserve the traditions of golf while catering to those who are passionate about the game. The club overlooks  the community's unique 18-hole championship golf course and  holds the distinction of being the first and only Greg Norman designed golf course in Broward County. A special 19th "Champion's" hole will be included. Clubhouse amenities are planned to include a formal dining room, casual outdoor dining areas, men's and ladies card rooms with food service, fully equipped golf pro shop, lavish men's and ladies locker rooms with showers, whirlpool, steam and private lockers.Membership in this equity club will be limited to about 425 with a limited number of non-resident memberships available. Memberships are currently being offered at at all price levels call us for details or email. leaplotkin@gmail.com or call  954-295-8015
Call the Parkland Golf and Country Club Top Agents for the Last 8 Years Ed Poirier and Rubin Wites at 954-295-8015