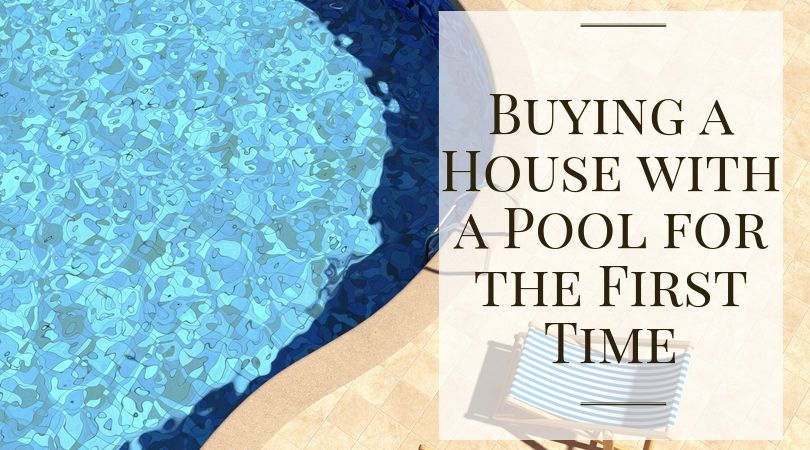 Purchasing a new home is a fun and exciting experience. It is fun to just think about what you would love your new home to have. Dreaming of all the ways your new home will make life easier and more enjoyable. Some of us dream of having a home with a pool, but if you have never owned a home with a pool before there are some things to consider first.  
There are many great things about having a pool on your property, but there are some logistics to consider as well. Here is a list of some things to think about before buying your first home with a pool.  
Pools Require Frequent Routine Maintenance and Cleaning

 
In order to keep a pool safe, clean, working well, etc. it requires frequent checks and upkeep. These things will require extra time and effort from the homeowner, or an extra cost to have the maintenance done by a professional. Pool water can easily and quickly become out of balance and result in very dirty water with dangerous illness-causing bacteria or algae if the cleaning and maintenance is not done on time.  
Utility Costs Are Higher in Homes with Pools

 
Pools require the use of electricity to power the pump and the heater (if you have a heated pool.) This will add an estimated $300 a year to an electricity bill on average depending on where you live. It also takes a significant amount of water to keep a pool full and this will add a little extra cost to the water bill. If you have to completely fill your pool, it can cost anywhere from $60 to $120 for a standard 15,000 to 30,000-gallon pool.  
Proper Safety Precautions Should be Taken

 
If you have children or pets, or plan to invite friends over who have children or pets, it is a good idea to make sure the home you purchase either has the proper safety equipment in place or the ability to install it. The minimum safety measures that should be taken to keep children and pets safe around the pool include safety fencing around the pool that can only be opened by an adult and having locks on doors that lead out to the pool. It is also a good idea to establish house safety rules and teach all able inhabitants of the home how to swim.  
The Open Backyard Space Maybe Smaller

 
Unless you are planning to purchase a home on a sizeable plot of land, plan for the space in the backyard to be much smaller than that of a home with no pool. Pools take up a considerable amount of room, even the smaller ones. Don't be surprised if you are shown homes where the entire back yard is allotted to the pool and pool deck.  
Equipment, Chemicals, Towels, and Floats Require Extra Space

 
You will need an ample amount of storage space to keep the cleaning tools, chemicals, vacuums, skimmers, and toys/floats/towels. If there is not already some sort of pool shed or storage system for these items in the garage you will probably want to a lot some space for pool items.  
Having a pool in your home or yard brings higher risks and because of those higher risks insurance rates will be a little higher than a home without a pool. Keep in mind that if the pool has a slide or a diving board some insurance companies will not insure the home due to the increased risk of injury and higher medical bills.  
There are some definite great perks to having a pool right outside your door. A huge perk is the fact that you can go swimming anytime you want! All that extra physical activity will only improve your health. Another perk, you now have a home everyone wants to hang out in!  
There are many great properties with pools in Parkland. Let the Parkland Power Team help you find your perfect next home. Contact  Lea anytime.  954-295-8015.
1-954-295-8015
Related:
The Cost of Renting Vs. Buying