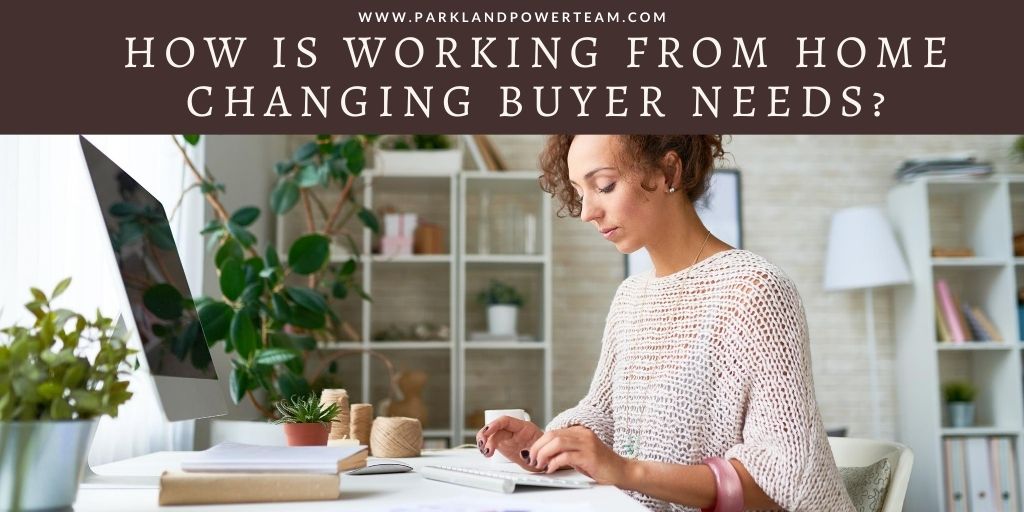 How is Working from Home Changing Buyer Needs? As more companies shift and provide opportunities for employees for working from home, many homeowners are shifting their focus on what they really need and want from their homes. Some are beginning to ask and wonder if they still need to live within a short commute of the office or if a home in the suburbs with more space to work from would make more sense for both new work needs and happier family life.
Many real estate experts have found that current work conditions stemming as a result of the pandemic have caused home buyers to widen their geographic home search parameters. Though not enough time has passed to determine the exact impact that COVID has had on homebuying, we do know that it is making an impact on how we all live daily lives at home. Because of much more time spent at home than before distancing measures homeowners are looking at how they can use the space in their home. People looking to buy are adding room for a home gym, a nice updated kitchen, outdoor space, and a room for everyone to their wish lists.
How is Working from Home Changing Buyer Needs?
A recent survey conducted by Realtor.com found that: of the 2,000 home shoppers considering buying in the next year surveyed, 63% that are currently working from home were motivated to buy as a result of working from home. 40% of that 63% said they expect to purchase a home in the next 4 to 6 months. 13% stated that changes brought on by the pandemic brought the motivation to move.
The National Association of Home Builders has reported that single-family home sales increased in June 2020 as mortgage interest rates are still historically low. They noted a rising demand in lower-density markets including the suburbs and the exurbs (rural areas).
During this time most of us can probably say our home has been our main source of activity and definitely a safe haven. The home turned into our office, a classroom, workout space, a private outdoor oasis, cooking class, how we met with interest groups, and more. This changed many of our mindsets of how important our homes truly are. Having a home to meet professional as well as personal and family needs became essential as there was nowhere to branch out into and accomplish daily living activities. For some, the best way to do this is in a new home.
Right now taking advantage of low mortgage rates may enable you to purchase a home that enables you to live more comfortably as you spend more time doing almost all of your daily activities there.
If you are looking to purchase a dream home in Parkland please contact me right away. I have extensive knowledge in the local market and can help you find a home that meets your needs and some of your wants too.
Are you looking for a luxury home in Boca Raton, Coral Springs, or the Parkland real estate market? Let me help you find the perfect property. I am an experienced local agent with extensive knowledge of Boca Raton, Coral Springs, and Parkland. Contact me anytime to get started with your luxury home search.  
More for Homeowners
Contact Me Anytime