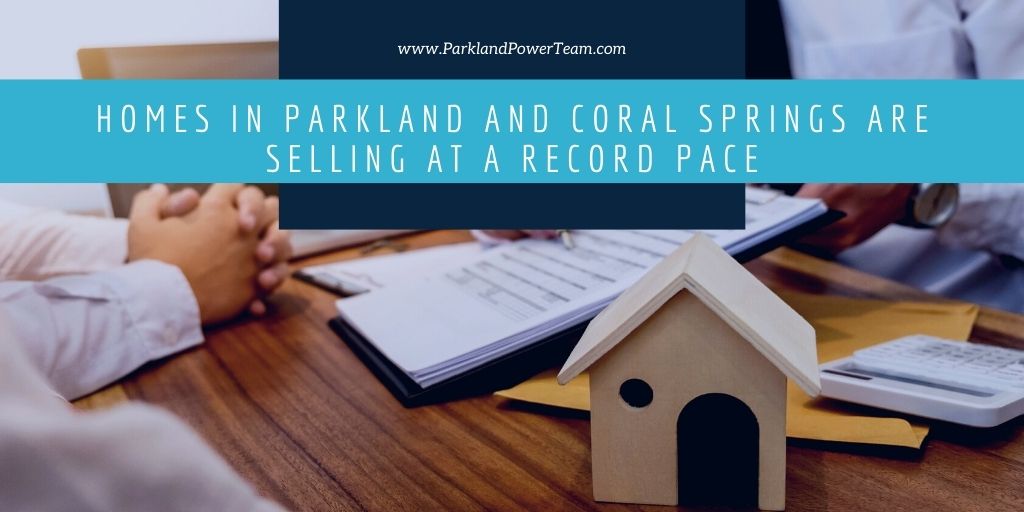 Homes in Parkland and surrounding cities are still in hot demand! The real estate market, and every other market for that matter, has taken some sharp twists and turns as a result of recent current events. Through new ways of doing business over the past few months, statistics have shown that the real estate market just might be the healthiest and most stable of markets all across the country. There may have been a few pauses and deters to conducting business traditionally, but in the past few weeks, the summer market has begun to quickly heat up both across the nation and right here in Parkland and Coral Springs.
Reports show that 56% of the Homes in Parkland Sold in April 2020 had Only Been Listed for a Month or Less
A low amount of homes listed for sale right now and an increasing amount of buyers is creating a seller's market. Homes are selling very quickly. Since inventory is so low right now, new homes that get listed draw much more attention and easily stand out among other listings. It is a very great time to sell a home, especially when you have a dedicated real estate agent offering extensive online selling services.
Related: The #1 Reason to List Your House Right Now
Recent Reports Also Show a 5.9% Week-Over-Week Increase in Homes Being Listed
At the height of distancing and stay at home orders, cities all over America saw very few or even no new homes being listed for sale. Now that some businesses are opening back up people are becoming a bit more comfortable with taking action on their plans to move to a new home. Both buyers and sellers are more confident in an economic turnaround and this is especially beneficial to anyone selling homes in Parkland and Coral Springs.
Buying Demand is Strong and Stable in all 50 States Right Now
Pre-pandemic, experts predicted the 2020 real estate market to be one of, or THE, biggest millennial homebuying years. A new report produced by the National Association of Realtors shows that the predicted buyer demand is strong everywhere in America right now. That is certainly true for the real estate market in Parkland and Coral Springs. Buyers are looking for homes and moving quickly to put in an offer on a home that they love.
Now is such a great time to sell a home. Working with a realtor that can help you get your home ready, provide plenty of knowledge and insight, and is dedicated to getting the best offer will help you to get your home sold very quickly.
If you are thinking about selling a home in Coral Springs or Parkland right now, please contact me right away. I would love to share with you my expert approach to selling your home safely and for the best price.
If you're planning on selling, here are some helpful tips for preparing and listing your home.
Staging is important and you want your home to WOW someone. Here are 5 simple tips to make your home look like a 5-start hotel
Buyers are looking for different things in a home than just 6 months ago. What is the one thing buyers want most in a house right now?
Selling? You need to know the market. Here are some frequently asked questions about the Parkland market right now
What about luxury? Are luxury home buyers looking for different things?   Luxury buyers are looking for these 6 tech features. 
Find Out What Your Parkland Home is Worth