Click on the Image for the complete PDF of the market report – View Video below for a breakdown of what's on the market report.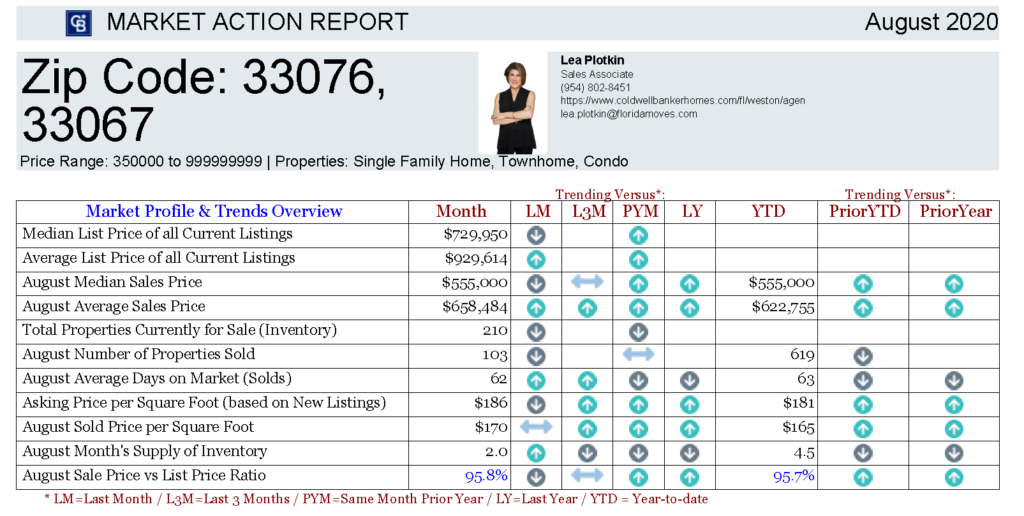 Here's what's going on in the Coral Springs and Parkland Florida real estate market or ZIP Codes 33067 and 33076. This is the market report year to date, so not the last 12 months but from January up until 1 September.
In August sales were down 103, only down -1% from last year at this time and 22% lower from last month. August 2020 were mid-level compared to last August, 2019, and 2018. And year to date sales are 4.9% behind August 2019.
The median price range in August was $555,000, which was up 10% from last year at this time. The average sales price in August was $658,000, pretty comparable to the median price range. This is up 12% from the prior year.
Days in the market are hovering around 90 days. This is actually about average. An average price home in a desirable area takes anywhere from 60 to 90 days to complete the sale. We can typically get an offer within 30 to 45 days but depending on closing dates and other parties involved, can take up to 90 days to finally close.
When it comes to inventory versus new listings, and the number of new listings in August was 117. This number is down 24% from last month and actually up 8.3% from August of last year. In July was even better than that.
For sellers:
The real estate market in Coral Springs, Boca Raton, and Parkland Florida is hot right now. Homes are not lasting very long on the market, specifically those in hot price ranges between $300,000 and $650,000. If you'd like more information about any of these areas or specific ZIP Codes from Jupiter on South, contact our office.
For homebuyers:
It's crucial to have a real estate agent that is well-versed in today's market. It takes a solid and tight offer to get accepted these days because of the competition. Sellers are looking for solid offers and while we highly urge our clients never to compromise on contingencies and inspections, there are ways to write up an offer that will be attractive to sellers regardless of contingencies, inspection and finance contingencies as well.
For more information, contact our office. We want to keep you up-to-date on what's going on in the Boca Raton home, Coral Springs property, or Parkland real estate market as well as local information, news, and updates on the current climate and market in our area.
Are you ready to sell your home? Contact me below to find out what your home is worth!
More for Homeowners
Contact Me Anytime