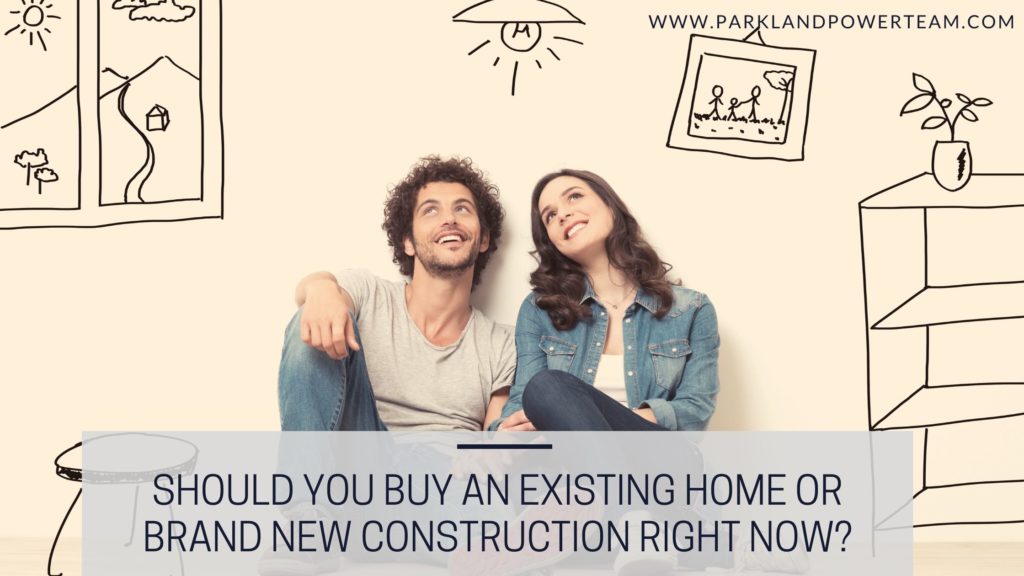 Finding the home that is just right in today's market is one of the biggest challenges home buyers are currently facing. With a lower than average home inventory and the number of new construction homes beginning to rise all around the country, some potential buyers are wondering if they should look into purchasing a brand new construction home.
This is a very good question to ask yourself and consider if you are looking to purchase a home.
A good way to begin processing your personal answer to this question is to look at the positive and negative aspects of purchasing each type of home.
Here are some things to consider with the purchase of new construction homes and resale homes.
New Construction Homes
Purchasing a brand new home that has not yet been constructed gives the buyer the option to choose more options in how they want the home to be. Depending on the builder a buyer will be given options on energy-efficient systems, new appliance upgrades, paint, floor coverings, front exterior style details, etc.
Being able to choose energy-efficient systems not only gives you a choice it will benefit the impact on the cost of your utility bills and will help keep the environment all around you healthy.
You can choose what available lot you want to live on and give more input on the landscaping.
The maintenance costs with a new construction home is low compared to resale homes that have been lived in by someone else. (As long as the builder is reputable and does a thorough job in making sure everything is done right.)
Resale Homes
If you purchase a home that is currently being lived in by someone else, you have more room to negotiate your offer and what you are willing to pay for the home. While this can be done with an expert buyer's agent with new construction homes, the builder generally will not budge much on the final sale price.
A resale home gives you a better look into what living in the neighborhood is like. It is established, people have settled into a lifestyle there. You can see if the neighbors and neighborhood are family-friendly, if people get outside and enjoy living there, what the traffic is like. With a new construction home you won't know the full neighborhood picture until development is over and everyone has moved in.
The timeline on moving in is a bit more solid when moving to a resale home. In some cases, something may come up where the buyer or seller asks for more time, but in most cases, the move-in date is pretty solid. Things can be unpredictable with a new construction home, it is not uncommon for an unforeseen problem to pop up that pushes the construction completion date out further. This is important to remember if you need to move from your current home sooner rather than later.
Both types of homes are great options, but for your specific needs, one option may be better than the other. Another thing to consider is the must-have attributes of your next home and what your personal financial budget would allow you to purchase in each category. It is a good idea to sit down (with your purchasing partner if you have one) and take a look at how these pros and cons fit into your personal life needs.
If you have more questions about your home buying options and purchasing a home in Parkland, Coral Springs, and Boca Raton please contact me right away.
More for Homeowners
Contact Me Anytime