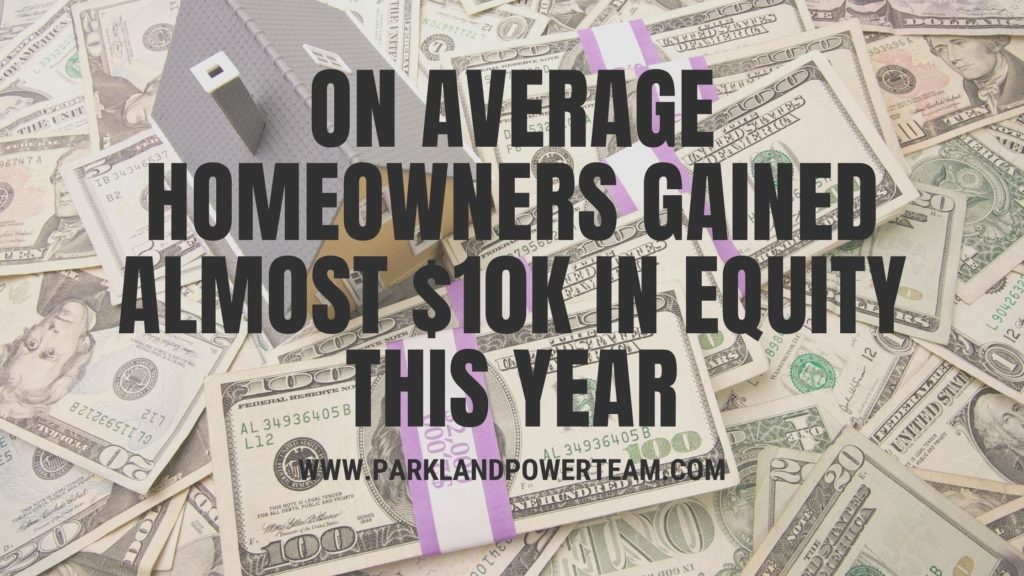 CoreLogic recently released a report that stated the average homeowner gained an average of $9,800 nationwide. The total equity increase on homes rose to a collective $620 billion and a percentage increase of 6.6 compared to this same period last year. This rise is spurred on by rapidly increasing home prices which have seen an increase of 4.3% year over year seeing little impact from the current pandemic as compared to other markets.
During the first and second quarters of this year, there was a 15 percent drop in the number of homes with negative equity and the total number went down to 1.7 million. The year over year number of mortgaged homes with negative equity also fell 15 percent. At the same time last year the total number of homes with a negative equity status was 2.1 million homes.
Currently, the numbers are showing huge positive status in the current housing market, but some are saying the pandemic has only just begun to show its full effect on the housing market. CoreLogic foresees home price growth settling down a fair amount over the next year, partly as a result of mortgage relief programs coming to an end. The months of high unemployment levels are also expected to make an impact on the housing market in the near future.
The president and CEO of CoreLogic, Frank Martell, stated that homeowners continue to be at an advantage due to the appreciation in value of their homes which held off foreclosure pressure. He also expects the current equity gains and strong demand for homes for sale to continue to work for a homeowner's advantage.
The company also noticed significant changes in different parts of the country. For example, Montana and Idaho saw the largest average equity increases at $28,900 and $21,200. While the state of New York, which had some of the hardest-hit cities from the pandemic, only saw an average equity increase of $4,400.
CoreLogic has also reported that the expected price growth slowdown will affect equity growth in the coming months. They forecast national home price growth to slow to 0.6 percent in July of 2021 and expect to see home prices decline in 11 states. They expect home equity gains to be negligible next year and equity loss to happen in many areas around the country.
What does all of this mean for homeowners? If you were planning to sell your home and decided that waiting until next summer when things are hopefully calmer, you might want to go ahead and list your home while inventory is low and homes are in high demand. It will allow you to sell at a higher price and make more equity that can be invested toward a home you love.
If you have more questions about your home buying options and purchasing a home in Parkland, Coral Springs, and Boca Raton please contact me right away.
More for Homeowners
Contact Me Anytime