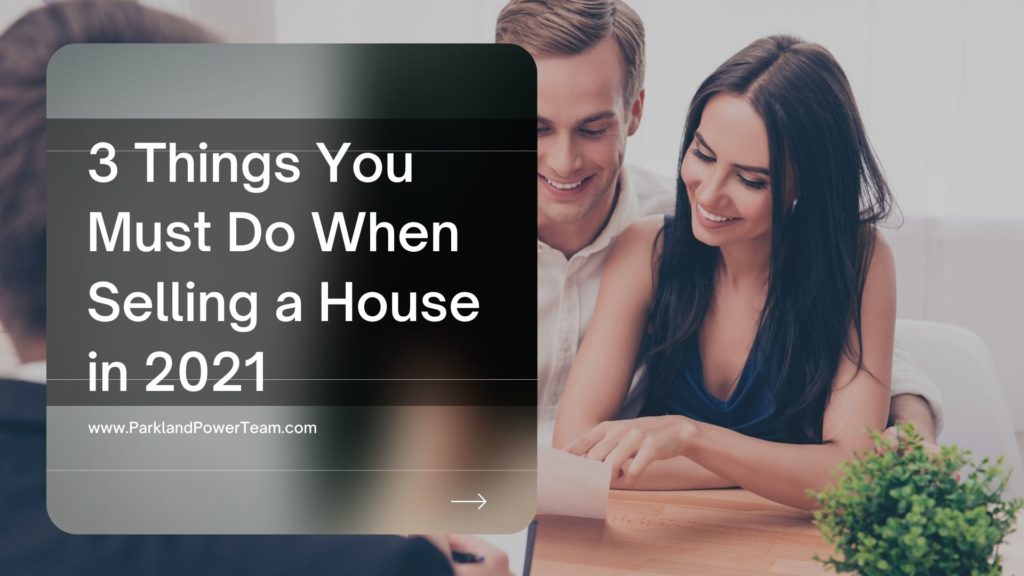 Selling a house can be an exciting adventure. The thoughts of making money off of your home and using it to purchase a new one that better suits your needs and wants along with the thrill of the search. In the midst of all the excitement, it can also bring some stress and nervousness and maybe even some sentimental feelings and attachment to your current home.
For the potential buyers involved in the purchase of your home, it is seen very differently. So when it comes to selling your home in 2021 there are 3 important things you will want to do when putting your home up for sale to help ensure the best success and as little stress as possible, even in a sellers' market. 3 Things You Must Do When Selling a House in 2021
Set the Listing Price Correctly
In a sellers' market when there are more people looking to buy homes than there are people selling homes, it is not uncommon for homeowners to think they can take advantage of the market and set the asking price of their home a little higher. When homes in some areas are selling in a matter of hours sellers become excited thinking about how much money they could make on the sale of their home. Listing a home at the right price is crucial to the success of selling your home. Even in a sellers' market where competition is high, buyers will not be interested in a home that is overpriced. They are still looking for a fair deal. Yes, homes are selling above list price, but this happens with desirable homes that were priced correctly.
Keep a Business Mindset
Even if you have only lived in your home for a year, you have made memories there. It is not uncommon to become sentimental about your home. A common mistake some home sellers make is they become too attached to their home and believe it is worth more than the current fair market value. This is more common in homes where an owner has spent a significant sum of money on improvements to the home and with sellers that have lived in their home for longer periods of time.
It is understandable to have these thoughts about the value of a home. The best thing to do when selling your home is to remember this is a business transaction. Hiring the help of an experienced local real estate agent is a very wise decision. They deal with the business part of selling homes on a daily basis and understand the feelings that can come with selling your home. An experienced agent will help you to keep everything on track.
Staging is Very Helpful
Staging is the process of setting up your home to appeal to buyers. It's like setting the stage for a play. You want the viewer to see the potential and better help them imagine what the space around them could be used for in their own "story" of life. Staging a property may not seem highly important to selling a home, but it has been proven that well-staged homes sell more quickly and for more money. When a buyer comes to look at a home they want to envision themselves living the new lifestyle they are shopping for.
Some great staging techniques include pulling all of the clutter from a room, removing bulky furniture, keeping colors neutral with a few bright pops in items like decorative pillows or flowers, and highlighting a room's usefulness. All of these help a buyer to see what a room could be used for and how they may see themselves using and loving it.
If you are considering selling your home, right now is a great time to list. The sooner you get your home on the market the better before more sellers begin to list their homes and the competition slightly cools off.
For help selling a Home in Parkland, Coral Springs, and Boca Raton real estate please contact me right away. I am a local agent with extensive knowledge and many years of experience that can help you sell your home successfully. I help folks all over the Parkland Florida area and would love to help you prepare, price and sell your home fast and successfully. If you're ready to list or if you're considering selling a house in the new year, start now by knowing how much your home is currently worth and what you can do to make it more attractive to buyers for the highest profit.
More for Home Sellers
Contact Me Anytime